| | | |
| --- | --- | --- |
| | Who is ZijHaven3 | |
ZijHaven3 is the embroidery studio in the Lemmer. Originated from hobby, creativity and a graphic & marketing background. With this embroidery studio I have found a combination in which my experience and interests come together. Interest in machine embroidery, colors, designs, fabrics, fashion, sports, special products, personalization and quality.
I am Jeannet Paulusma.
Owner and your contact person.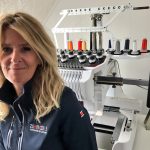 With my graphic & marketing background I can provide you with good advice on promotional expressions regarding clothing, products and gifts. With my experience I gained from the advertising combined with my graphical insight, I know what design means and I can also go into the depth of the technology and its possibilities. Through my hobbies horse riding and sailing I also enjoy  to personalize clothes for this.
I can completely put my creativity into thinking of embroidered products, personal gifts and fun actions.
So you'll understand that I am enthusiastic and enjoy to carry out your assignment. In order to issue a good quotation, it is therefore very important that we go through everything properly because every assignment is tailor-made and I think it is very important that it is carried out as desired.
"I truely enjoy to create something beautifully,
something that you as a customer get truely exited about!"
method
METHOD
You choose a piece of clothing or article from the collection of our website, when it is not available then I will search for the desired article. Or you supply a garment or article yourself. Pay attention to this; embroidery  is always at your own risk. If something goes wrong with embroidery and / or your own article gets damaged then ZijHaven3, borduurstudio Lemmer, is not liable for this.
You supply your logo / image and / or text via: info@borduurstudiolemmer.frl. The better the quality of the image, the better the quality of the embroidery. I prefer to work with EPS files or JPEG files. The logo or image must be your property in connection with property rights.
You will receive a quotation as soon as possible.
You agree with the quotation and place the order.
You agree with our terms and conditions
I'll digitize your logo / image and / or text for you and make an embroidery design from this.
If you would like a test boarding, I will send it to you. After your approval via info@borduurstudiolemmer.frl I will continue to work for you. Please note: there is always a fee for a test boarding, unless agreed otherwise.
You will then receive an email with the invoice.
You transfer the agreed amount to our bank account.
You will receive the delivery date from me and the items will be sent to you or can be collected by appointment.
payment / delivery
You can transfer the agreed amount to our bank account number: see the instruction on our quotation.
Note: Do not forget to include your invoice number with your payment
After receiving the payment we will send the articles to you.
ZijHaven3, borduurstudio Lemmer sends all packages with PostNL. All items are carefully packed and handed over to PostNL in person.
PostNL ensures that your order is delivered to you as quickly as possible.
ZijHaven3, borduurstudio Lemmer is not responsible for loss and / or damage of articles during the shipment by PostNL.
We ensure that the shipping costs remain as low as possible.
For packages that do not fit through the mailbox (€ 4.10 excl. VAT) we charge:
Shipping costs for shipping within the Netherlands.
€ 6.25 excl. VAT (up to 23 kg, incl. Insurance, price changes are reserved)
Shipping costs for shipping abroad (Europe)
from € 9.25 excl. VAT (up to 23 kg, incl. insurance, price changes are reserved)
Shipping costs for shipment to the rest of the world
from € 14,50 excl. VAT (up to 20 kg, incl. insurance, price changes are reserved)
As soon as the package has been sent you will receive the Track & Trace code from PostNL(if provided by PostNL); not all countries are supported).
You can then follow your package online. You can also pick up your package from us. However, this is only possible by appointment.
terms and conditions
Below you will find a summary of the general terms and conditions
APPLICABILITY
The general terms and conditions of sale apply to all quotations, agreements and deliveries of goods from ZijHaven3, borduurstudioLemmer, as well as to orders placed by the customer at ZijHaven3, borduurstudioLemmer.
OFFERS AND AGREEMENTS
All our offers / quotations are completely free of obligation and the delivery can take place in partial deliveries.
DELIVERY
The delivery takes place at the embroidery studio and the delivery times are only an indication.
Minor deviations must be accepted by the customer.
LIABILITY
Commissioned deliveries can not be returned.
Products are available while stocks last.
Embroidery on self-inserted items is always at the risk of the person who delivers the articles. If something goes wrong with embroidering and / or if own inserted items get damaged, ZijHaven3, borduurstudioLemmer, is not liable for this!
PRICING AND PAYMENT TERMS
Prices are in Euros and exclusive of VAT, unless stated otherwise and payment must be paid before delivery.
OWNERSHIP AND PURCHASE
Customer / client is the only person responsible for any infringement of copyright or trademark. The customer / client insures that no third-party rights will be violated when ZijHaven3, borduurstudioLemmer, takes delivery of an embroider / print or on the other hand. ZijHaven3, borduurstudioLemmer, is not responsible for any violation of trademark, copyright and / or the like, if ZijHaven3, borduurstudioLemmer, produces on behalf of the customer.
INTELLECTUAL PROPERTY
ZijHaven3, borduurstudioLemmer, remains at all times owner of the intellectual property rights with regard to and embodied in goods offered or delivered by ZijHaven3, borduurstudioLemmer, which are also understood by ZijHaven3, borduurstudioLemmer, designs, drawings, calculations, further information and know-how.
NOT DETERMINABLE DEFICIENCY
ZijHaven3, borduurstudioLemmer, can partially or fully dissolve the agreement in circumstances wholly or partially outside its sphere of influence.
DISSOLUTION
Dissolution of agreements, insofar as not otherwise agreed, is only possible by judicial decision.
EXPIRATION
If the Customer is of the opinion that ZijHaven3, borduurstudioLemmer, has not performed properly or in any way wholly or in any way, he is obliged to inform ZijHaven3, borduurstudio Lemmer, immediately, and, if this would not lead to an amicable settlement, the to base claims based on them at the latest after a period of one year, to be counted from the date of this notice, under penalty of forfeiture of his rights, without prejudice to his other obligations.
INDEMNIFICATION
The Purchaser indemnifies ZijHaven3, borduurstudioLemmer, from all third-party claims relating to or arising from what ZijHaven3, borduurstudioLemmer, has made on instructions or instructions from the Purchaser, or has affixed goods.
RIGHT OF WITHDRAWAL
Products that are made according to the customer's specifications are unambiguously adjusted to the personal requirements of the customer can not be returned.
privacy statement
Below you will find a summary of our privacy statement
Data Collection
If you browse our website, it will be anonymous, unless you have previously registered with us as a registered user . We do not automatically collect personal information, including your e-mail address.
Access to certain BORDUURSTUDIO ZIJHAVEN 3 web pages requires a login and a password. Unless you have your personal data deactivated, your personal may be withheld by BORDUURSTUDIO ZIJHAVEN 3 for static research purposes or to comply to legal requirements for tax processing as applicable in the Netherlands.
Notification
If personal information is collected, we will inform you at that time about the purpose of the collection. BORDUURSTUDIO ZIJHAVEN 3 will not pass on your personal information to third parties without your permission, except in some limited circumstances.
How we use collected information
BORDUURSTUDIO ZIJHAVEN 3 uses information for various generic purposes; meeting your request for certain products and services.
Sharing and Spreading Information
Your personal information is never shared outside of BORDUURSTUDIO ZIJHAVEN 3 without your permission, except in those situations and circumstances as described below:
if we have your permission to share this information;
if parts of your information are necessary to provide you with a product or service that you have requested (if your information is shared with third parties, we will only share the information that they need to provide the service. They are not authorized to use that information other than for the desired service).
Finally we will disclose your information when obligated by law.
Your ability to Access, Modify or Deactivate your Information
If you are a registered user, you can view your personal information and make changes to it via My Account section. You may also request the deactivation of your account or any other personal information managed by us by sending an e-mail to INFO@BORDUURSTUDIOLEMMER.FRL.
Data Protection
Your BORDUURSTUDIO ZIJHAVEN 3 account information is password protected for your privacy security. BORDUURSTUDIO ZIJHAVEN 3 monitors the security of the data you send to us using physical, electronic and management procedures. In certain areas of our website, BORDUURSTUDIO ZIJHAVEN 3 uses the industry standard for SSL encryption to increase the security of sensitive data transmissions.
Children and Privacy
Our website does not focus and is not intended for children under the age of 13. BORDUURSTUDIO ZIJHAVEN 3 does not collect any personal information from and does not make any requests to children under the age of 13.
Changes to this Privacy Statement
BORDUURSTUDIO ZIJHAVEN 3 will improve this statement from time to time. If we make any substantial changes to the way we use your information, we will report this on this site.
Questions or Suggestions
If you have questions about or are concerned about our collection, use or disclosure of your personal information, you can send us an e-mail by using the following e-mail address: INFO@BORDUURSTUDIOLEMMER.FRL.